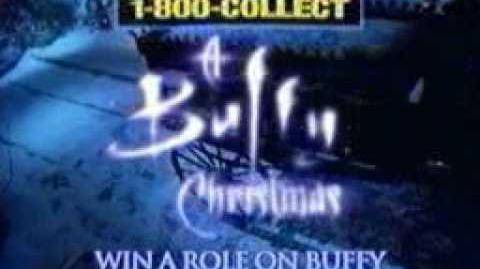 A Buffy Christmas is a 1-800-Collect sweepstakes, meant for fans to win a role on Buffy, and also meant as an advertisement for "Amends", the commercial airing immediately after the premiere of "Lovers Walk". The commercial features both Sarah Michelle Gellar and David Boreanaz playing their respective characters.
Commercial
Amazingly enough, it is snowing in Sunnydale. Buffy walks down the streets and says "This season, with 1-800-Collect, you don't have to be alone for the holidays." before stopping by a pay phone and beginning a call. As she punches in the numbers, the announcer explains that every 1-800-Collect call enters them in the "A Buffy Christmas" sweepstakes, which allows the participants to win a role on Buffy the Vampire Slayer, and also advises them to watch A Buffy Christmas on Tuesday, December 15.
As he speaks, a mysterious figure stalks up through the snow behind Buffy. Hearing the footsteps, Buffy breaks a stake-shaped icicle off of a nearby tree, twists around, and thrusts, but the figure, revealed to be Angel, effortlessly catches her wrist. Angel calmly says "Sorry I'm late.", to which Buffy replies, "You should have called." The two then look up into the sky as snow falls, before walking off into the night arm-in-arm.
The scene then cuts to Buffy holding a snowglobe, ending the commercial by saying "Your Christmas wish just may come true."
Winner
Jessica Johnson of Maryland won the three-day trip for two and participated in the episode "The Prom".
Ad blocker interference detected!
Wikia is a free-to-use site that makes money from advertising. We have a modified experience for viewers using ad blockers

Wikia is not accessible if you've made further modifications. Remove the custom ad blocker rule(s) and the page will load as expected.