Acathla
Talk

2
4,489pages on
this wiki
Acathla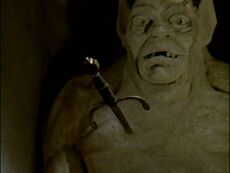 Information

Name
Acathla
Aliases
Alfalfa
Al Franken
Status
Alive
Classification
Demon
Notable powers
Can create portals to suck entire worlds into his personal hell.
"Acathla, the demon, came forth to swallow the world. It was killed by a virtuous knight who pierced the demon's heart before it could draw breath to perform the act. Acathla turned to stone, as demons sometimes do, and was buried where neither man nor demon would want to look. Unless of course they're putting up low rent housing."
―Angelus
Acathla was a demon that was once sent to bring about the end of the world. According to the benevolent demon, Whistler, it was the destiny of ensouled vampire Angel to stop Acathla from opening the gate to his hell dimension. However, in 1997, Angel lost his soul and reverted to his evil alter-ego, Angelus who set about to awaken Acathla. It was revealed that Angel's blood was the key to awakening the demon and opening the door that would suck the world into Acathla's hell. The Slayer, Buffy Summers ran Angel through with a sword after he awakened Acathla and Angel was sent into hell. However, Angel was released from Acathla's world several months later under mysterious circumstances.
Before having been first defeated, Acathla had been served by an acolyte whose name was Lucius Temple.
Appearances