Amber Benson
Talk

0
4,491pages on
this wiki
Amber Benson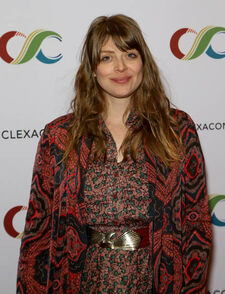 Statistics

Name
Amber Nicole Benson
Gender
Female
Date of Birth
January 8, 1977
Place of Birth
Birmingham, Alabama, United States
Characters
Tara Maclay
Amber Nicole Benson is an American actress best known for playing Tara Maclay, Willow's girlfriend on Buffy the Vampire Slayer. Amber has also done some singing mainly in "Once More, With Feeling". She provided vocals for the songs "I've Got a Theory / Bunnies / If We're Together", "Under Your Spell" (her solo), "Under Your Spell/Standing" - reprise, "Walk Through the Fire" and "Where Do We Go From Here?". She also sang "Touch-a, Touch-a, Touch-a, Touch Me" on a live version of The Rocky Horror Picture Show with Anthony Stewart Head.
"I just feel lucky to have grown up where I did because I think it gave me a nice base. Hollywood can really mess with your sense of self and I feel like coming from the South keeps me pretty grounded."
―Amber Benson
Amber is currently dating fellow Buffy the Vampire Slayer co-star Adam Busch. Ironically, Busch played the character Warren Mears, who killed Benson's character in "Seeing Red".
Amber also played on the independent movie Chance, which she also directed, with fellow Buffy actors James Marsters, Andy Hallett and Jeff Ricketts.
She played with Eliza Dushku on Bye Bye Love and has written several novels including some Buffy comics.
Gallery
External Links