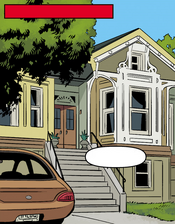 This house was situated in Oakland, California, and was the residence of Andrew Wells. Spike[1] and holo-Jonathan[2][3] were also temporary residents.
Prominent Events
Buffy and Xander visit Andrew to apologize and support him for coming out as gay[4].
The Sculptor and its minions invade his house to propose him to exchange Buffy's scythe, under the promise of a body for holo-Jonathan[3].
Behind the Scenes
Appearances
References
Ad blocker interference detected!
Wikia is a free-to-use site that makes money from advertising. We have a modified experience for viewers using ad blockers

Wikia is not accessible if you've made further modifications. Remove the custom ad blocker rule(s) and the page will load as expected.