Ad blocker interference detected!
Wikia is a free-to-use site that makes money from advertising. We have a modified experience for viewers using ad blockers

Wikia is not accessible if you've made further modifications. Remove the custom ad blocker rule(s) and the page will load as expected.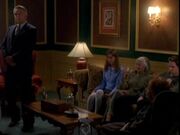 The Bointon family was one of Los Angeles wealthiest families. In 2001, the heir of the family wealth, Derek Bointon was murdered. Virginia Bryce, friend of Patricia Bointon called Angel Investigations to find the person responsible for Derek's death.
Bointon Family Tree
          Bointon Grandfather
                  |
                  |
       +----------+----------+
       |                     |
       |                     |
       |                     | 
 Helen Bointon          Mr. Bointon-------+-------Mrs. Bointon
                                          |
                                          |
                                          |
                        +-----------------+-----------------+
                        |                 |                 |
                        |                 |                 |
                        |                 |                 |
                 Derek Bointon      Kevin Bointon     Patricia Bointon

Appearances