Ad blocker interference detected!
Wikia is a free-to-use site that makes money from advertising. We have a modified experience for viewers using ad blockers

Wikia is not accessible if you've made further modifications. Remove the custom ad blocker rule(s) and the page will load as expected.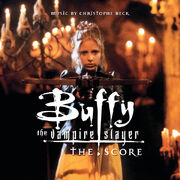 Buffy the Vampire Slayer: The Score is a soundtrack album featuring incidental music from the Buffy the Vampire Slayer TV series.
It is the first Buffy CD release which is exclusively dedicated to the TV series' musical score, and features compositions from seasons 2, 3 and 4, as well as the season 5 episode "The Gift". The album was released on September 9, 2008.
Track listing
Massacre (from "Becoming")
Angel Waits (from "Passion")
Remembering Jenny (from "Passion")
Twice the Fool (from "Bewitched, Bothered and Bewildered")
Moment of Happiness (from "Innocence")
Loneliness of Six (from "Lovers Walk")
Sugar High (from "Band Candy")
Tai Chi (from "Band Candy")
Kralik's House (from "Helpless")
Magic Snow Music (from "Amends")
Slayer's Elegy (from "The Wish")
Faith's End (from "Graduation Day")
Drink Me (from "Graduation Day")
One Last Moment (from "Graduation Day, Part Two|Graduation Day")
Haunted (from "Fear, Itself")
From the Grave (from "This Year's Girl")
Demon Got Your Tongue (from "Hush")
Golf Claps (from "Hush")
The Princess Screams (from "Hush")
Spellbound (from "Who Are You")
Fyarl in the Morning (from "A New Man")
A Really Big Sandbox (from "Restless")
Spaghetti (from "Restless")
Body Paint (from "Restless")
Xander's Nightmare (from "Restless")
The Tower (from "The Gift")
Losing Battle (from "The Gift")
Apocalypse (from "The Gift")
Sacrifice (alternate version, from "The Gift")
iTunes Exclusive Bonus Tracks
30. Willow and Oz (from "Something Blue")
31. Thanksgiving Brawl (from "Pangs")
Rhapsody Exclusive Bonus Track
30. 2 Girls, 1 Van (from "Restless")
Amazon Exclusive Bonus Track
30. Exposition Song (from "Restless")