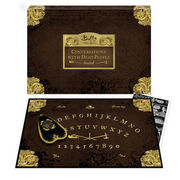 The
Buffy the Vampire Slayer "Conversations with Dead People" Board
is a
Ouija board
-style novelty item released by
Dark Horse
on September 17, 2008.
It included a 17 5/8" x 12" board and pressed board planchette, plus an instruction sheet featuring all-new comic panels by Paul Lee. Suggested retail was $29.99.
Original solicitation
What is more conducive to speaking to the spirits than a game board based on the world of Buffy the Vampire Slayer? In the tradition of the Sunnydale Hellmouth, through which countless entities gained entry, let voices from the other side move the planchette along the board, choosing letters and numbers to answer your queries. Follow in the footsteps of Willow and hone your witchy skills, learning to communicate with the beyond!
Game board for entertainment purposes only.
Gallery
Instruction sheet
External links
Ad blocker interference detected!
Wikia is a free-to-use site that makes money from advertising. We have a modified experience for viewers using ad blockers

Wikia is not accessible if you've made further modifications. Remove the custom ad blocker rule(s) and the page will load as expected.