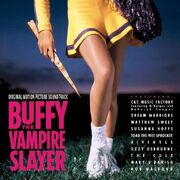 The Buffy the Vampire Slayer Soundtrack was the soundtrack to the Buffy the Vampire Slayer film and was released on July 28, 1992.
Track listing
Additionally, Lothos plays on his violin the theme from the 2nd part of Robert Schumann's Piano Quintet Es-dur op. 44, and Buffy sings "Feelings", whilst slaying. Other songs in the film not on the soundtrack album include:
External Links
Ad blocker interference detected!
Wikia is a free-to-use site that makes money from advertising. We have a modified experience for viewers using ad blockers

Wikia is not accessible if you've made further modifications. Remove the custom ad blocker rule(s) and the page will load as expected.