Home
Talk

122
5,379pages on
this wiki

Wesley Wyndam-Pryce–

Wesley Wyndam-Pryce was a former Watcher, a member of Angel Investigations, and later an executive at Wolfram & Hart. Wesley's childhood was a largely unhappy one. At the age of six or seven, Wesley attempted to resurrect a dead bird using a mystical scroll stolen from his father's library. As a teenager, he attended an all-boys preparatory school run by the Watchers Council, where he was named Head Boy.
Read more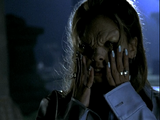 Nightmares–
"Nightmares" is the tenth episode of the first season of Buffy the Vampire Slayer and is the tenth episode overall. It was directed by Bruce Seth Green and written by Joss Whedon and David Greenwalt. The episode originally broadcasted on May 12, 1997. The residents of Sunnydale are in a dilemma when their nightmares start to come to life.
Read more

Halfrek–
Halfrek or Hallie was a vengeance demon and was implied to have been Cecily (the girl who Spike pined for as a human). Halfrek was a long-time associate and sometime friend of Anya Jenkins, who knew her from her days as a vengeance demon named Anyanka. The two had worked together in the past, notably during the Crimean War and the Russian Revolution.
Read more
What is your favorite season of BTVS?