Buffyverse Wiki is a collaborative encyclopedia for everything related to Joss Whedon's Buffy the Vampire Slayer and its spin-off Angel. The wiki format allows any registered user to create or edit any article, so we can all work together to create a comprehensive database for Buffyverse fans.
Who was your favorite Buffy beau?
Last months results are in: Who is your fave Big Bad? After 568 votes, 37% said Angelus/Spike/Drusilla were!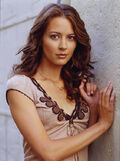 Fred
Winifred "Fred" Burkle was a physics student and member of Angel Investigations, and later the head of Wolfram & Hart's Science Division. Born in Texas, Fred moved to Los Angeles to attend graduate school at UCLA until one fateful day when her jealous physics professor, Oliver Seidel, used dark magic to banish her to the demon dimension Pylea, where she spent five years as a human slave; the time there took a serious toll on Fred's sanity.
Read more

Superstar
"Superstar" is the seventeenth episode of the fourth season of Buffy the Vampire Slayer, and is the seventy-third episode altogether. It was written by Jane Espenson and directed by David Grossman. It originally broadcast on April 4, 2000. Buffy and the Scooby Gang are hunting vampires in a graveyard. When they discover a nest, they decide there are too many vampires to fight, so they go to Jonathan's mansion to ask for help. Later, at Giles' place, Jonathan checks out weapons and even practices hand-to-hand with Buffy.
Read more

Sweet
Sweet was the nickname of a powerful demon whose mere presence could cause the inhabitants of an area he visited burst into song and dance, which would lead to some of the victims to spontaneously combust. He was supposedly bound by certain rules such as marrying whoever summoned him and taking them to his own hell dimension, but seemed to have the authority to ignore them if he so desired.
Read more