Buffyverse Wiki is a collaborative encyclopedia for everything related to Joss Whedon's Buffy the Vampire Slayer and its spin-off Angel. The wiki format allows any registered user to create or edit any article, so we can all work together to create a comprehensive database for Buffyverse fans.
What is your favorite BTVS "Big Bad"
The results from last month's poll: Season 6 barely beat out the rest as best season of BTVS, with 26%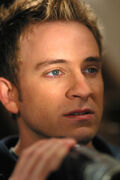 Andrew Wells
Andrew Wells was a reformed "super villain", a member of the Scooby Gang and a Watcher in Buffy Summers' Slayer Organization. The younger brother of Tucker Wells, Andrew graduated from Sunnydale High School with proficiency in demon summoning, and alongside Warren Mears and Jonathan Levinson, founded the group known as the Trio. Following the deaths of his allies, Andrew was manipulated by the First Evil, and spent the better part of a year held hostage by the Scooby Gang.
Read more

Smile Time
"Smile Time" is the fourteenth episode of the fifth season of Angel and the 102nd episode overall. Written by Ben Edlund and Joss Whedon and directed by Ben Edlund, it was originally broadcast on February 18, 2004 on the WB network. It was nominated for and won several honors and spawned its own toy line.
Read more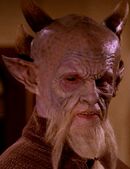 D'Hoffryn
D'Hoffryn was one of the Lower Beings, a group of particularly powerful demons, the employer/master of Vengeance demons, and the ruler of the hell dimension of Arashmaharr. He was particularly fond of Anyanka and was responsible for her transformation into a Vengeance demon.
Read more