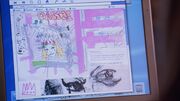 Cassie's Poetry and Paintings was the website of Cassie Newton.
Details
Because of the overwhelming nature of her powers and the usual challenges of adolescence, Cassie maintained an online diary, in which she uploaded her drawings, paintings and poetry (described by Xander Harris as "always a sign of pretentious inner turmoil"), which led the Scooby Gang to wrongly believe that Cassie considered suicide. Willow Rosenberg found Cassie's website by looking her up on Google.
Behind the Scenes
In "Help", to emphasize the dramatics of teenagehood, Cassie maintained an online diary. Following a suggestion from Joss Whedon, the production team decided to create this website for real, complete with poetry. It was actually composed and created by Rebecca Rand Kirshner, the episode writer. The site was created and hosted at Geocities, and the writers even registered a domain name for it in the name of Cassie Newton.
The whois entry for the domain name:
Creation Date........ 2002-09-14
Registration Date.... 2002-09-14
Expiry Date.......... 2003-09-14
Organisation Name.... Cassie Newton
Organisation Address. 13 Shadow Lane
Organisation Address. 
Organisation Address. Sunnydale 
Organisation Address. 94086
Organisation Address. CA
Organisation Address. UNITED STATES

Admin Name........... Cassie Newton
Admin Address........ 13 Shadow Lane
Admin Address........ 
Admin Address........ Sunnydale
Admin Address........ 94086
Admin Address........ CA
Admin Address........ UNITED STATES
Admin Email.......... newcassie@yahoo.com
Admin Phone.......... 666-442-8363

Thus Cassie lived at 13 Shadow Lane, Sunnydale. 94086 is actually the zip code for Sunnyvale, CA. Sunnyvale is much further north than the supposed location of Sunnydale, but the similar names make it a logical joke. The use of 666 in the phone number is typical of Whedon's sense of humor.
The site became extremely popular, exceeded its download limits, and the site guestbook filled up some thirty times over.
When the domain name registry lapsed, the Geocities site was deleted; the Internet Archive has a cached copy.[1] The domain name is now registered to a company in Hong Kong.
References
Ad blocker interference detected!
Wikia is a free-to-use site that makes money from advertising. We have a modified experience for viewers using ad blockers

Wikia is not accessible if you've made further modifications. Remove the custom ad blocker rule(s) and the page will load as expected.