Christos Gage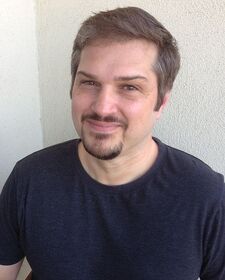 Statistics

Name
Christos Gage
Gender
Male
Date of Birth
July 17, ????
Place of Birth
New York City, New York, US
Job(s)
Writer
Christos Gage was a writer whose work included Angel & Faith comics from Dark Horse Comics.
Buffyverse comics written
Buffy the Vampire Slayer
Season 9 - Angel & Faith
Season 9 - Willow: Wonderland
Season 10
External links
References
Ad blocker interference detected!
Wikia is a free-to-use site that makes money from advertising. We have a modified experience for viewers using ad blockers

Wikia is not accessible if you've made further modifications. Remove the custom ad blocker rule(s) and the page will load as expected.