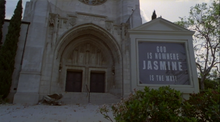 This church was abandoned by its priest when Jasmine hypnotized all the people of Los Angeles. When she discovered that the blood of the comatose Cordelia Chase had the capacity to erase her powers, she charged Brent and Jeremy to place her body inside for safekeeping.
Appaereances
Ad blocker interference detected!
Wikia is a free-to-use site that makes money from advertising. We have a modified experience for viewers using ad blockers

Wikia is not accessible if you've made further modifications. Remove the custom ad blocker rule(s) and the page will load as expected.