Deevak was a demon crime lord that surrounded himself with vampires and human thugs and used the cover identity of Jameel.
Behind the Scenes
He was portrayed by Alan Shaw and Scott L. Schwartz; his undercover identity was portrayed by Christopher Babers.
Appearances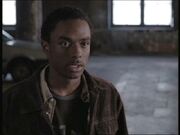 Ad blocker interference detected!
Wikia is a free-to-use site that makes money from advertising. We have a modified experience for viewers using ad blockers

Wikia is not accessible if you've made further modifications. Remove the custom ad blocker rule(s) and the page will load as expected.