Ad blocker interference detected!
Wikia is a free-to-use site that makes money from advertising. We have a modified experience for viewers using ad blockers

Wikia is not accessible if you've made further modifications. Remove the custom ad blocker rule(s) and the page will load as expected.
| | | |
| --- | --- | --- |
| | Although this article is based on canonical information, the actual name of this subject is conjectural. | |
"Sis modo dissolutum exposco, validum scutum! Diutius nec defende a manibus arcam, intende! (Be now dissolved, I demand, o powerful shield! No longer defend the box from our hands, hear us!)"
―Willow Rosenberg
A Dissolution spell was a spell that would dissolve mystical energy shields. The spell involved reciting an incantation in Latin and pouring a magical powder over the intended target.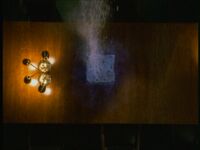 Willow Rosenberg performed this spell when the Scooby Gang stole the Box of Gavrok from the City Hall.
Appearances