Four Star Mary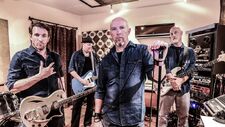 Information

Name
Four Star Mary
Band members 
Tad Looney
Derrick Tanner
Zu
Four Star Mary was an alternative rock group formed in California in 1997.
Behind the Scenes
Four Star Mary provided the music for the fictional band Dingoes Ate My Baby.
Their 2001 single "Pain" is present on the original soundtrack CD for the show and is also briefly featured in an episode of the American television show Charmed.
They played the following songs:
All these songs appeared on their album ""Thrown by the Wolves" exept "Sway" which appears on their FSM EP.
The song Pain is also included in Buffy the Vampire Slayer: The Album.
All of their songs have one word titles.
Appearances
(as Dingoes Ate My Baby)
External Links
Ad blocker interference detected!
Wikia is a free-to-use site that makes money from advertising. We have a modified experience for viewers using ad blockers

Wikia is not accessible if you've made further modifications. Remove the custom ad blocker rule(s) and the page will load as expected.