Franco Urru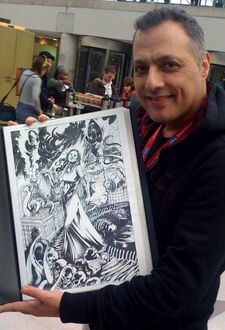 Statistics

Name
Franco Urru
Gender
Male
Place of Birth
Italy
Date of Death
November 29, 2012
Place of Death
Italy
Job(s)
Penciller
Inker
Cover artist
Franco Urru was an Italian comic book artist whose work included Angel comics from IDW Publishing, most prominently Angel: After the Fall. Urru debuted in the U.S. comic book industry by penciling Spike: Asylum, in 2006. He sadly passed away on November 29, 2012.[1]
Urru drew a special cover for Angel and Spike collaborator, writer Brian Lynch's wedding.[2] His last work for the Buffyverse-related comics is a Xander variant, limited cover for the first Buffy the Vampire Slayer Season Nine TPB released exclusively in Germany by Panini Comics.[3]
Selected bibliography
Below is a non-exhaustive sample of comic titles by Franco Urru.
External Links
References
Ad blocker interference detected!
Wikia is a free-to-use site that makes money from advertising. We have a modified experience for viewers using ad blockers

Wikia is not accessible if you've made further modifications. Remove the custom ad blocker rule(s) and the page will load as expected.