Gregor
Talk

0
4,492pages on
this wiki
Gregor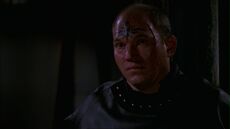 Information

Name
Gregor
Status
Deceased
Classification
Human
Affiliation
Knights of Byzantium
Portrayed by 
Wade Andrew Williams
"You do not frighten me, child. The instrument of chaos must be destroyed."
―Gregor
General Gregor was the leader of the Knights of Byzantium. Buffy Summers interrogated him and learned of Glory's origin in the encounter. He noticed that Ben Wilkinson shared bodies with Glory and tried to convince him to kill Buffy's sister Dawn, the Key, so he may be free from Glory. Ben, having not complied, then turned into Glory who then killed Gregor by throwing a tire rim with enough force that it sliced into his torso.
Buffy also learned how to kill Glory, which Rupert Giles ultimately accomplished.
Behind the Scenes
He was portrayed by Wade Andrew Williams.
Appearances