Ad blocker interference detected!
Wikia is a free-to-use site that makes money from advertising. We have a modified experience for viewers using ad blockers

Wikia is not accessible if you've made further modifications. Remove the custom ad blocker rule(s) and the page will load as expected.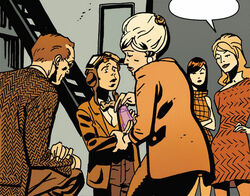 The Giles family was a British family which Rupert Giles was a member of. The Giles family had been involved with the Watchers Council for three generations, starting with Edna Fairweather, who, as a young Watcher-in-training, fell in love with the older son of the family running Giles' Bakery, eventually marrying him. Like Edna, her son also became a Watcher. Edna's grandson, Rupert, would also follow in his father's and grandmother's footsteps.
Family tree
                Mr. Fairweather     Mrs. Fairweather                  Giles the Baker   Mrs. Giles the Baker
                      |                  |                                 |               |
                      |                  |                                 |               |
                      +--------+---------+                                 +-------+-------+
                               |                                                   |
         +---------------------+-------------------------+                         |
         |                     |                         |                         |
         |                     |                         |                         |
Lavinia Fairweather     Sophronia Fairweather     Edna Fairweather        "One of the Baker's boys"
                                                         |                         |
                                                         |                         |
                                                         |                         |
                                                         +------------+------------+
                                                                      |
                                                                      |
                                                                      |
                                                                      +
                                                                  Mr. Giles               Mrs. Giles
                                                                      |                     |
                                                                      |                     |
                                                                      |                     |
                                                                      +----------+----------+
                                                                                 |
                                                                                 |
                                                                                 |
                                                                                 +
                                                                        Rupert Edmund Giles