| | | |
| --- | --- | --- |
| | Although this article is based on canonical information, the actual name of this subject is conjectural. | |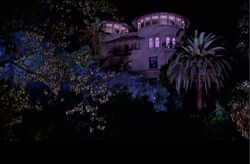 This luxurious Mansion was the home of the goddess Glorificus, a.k.a. the Beast during her time on Earth, and by extension the home of Ben Wilkinson also who lived there with her Minions. It was presumably destroyed along with the rest of Sunnydale by following the Battle at the Hellmouth
Behind the Scenes
The picture in the living room of Glory's mansion is a copy (or indeed, perhaps the original, as it is unlikely someone of Glory's personality would settle for "second-best") of Tamara de Lempicka's Irene and her sisters a.k.a. Four nudes. The Polish art déco/futurist artist is renowned for being strongly feminist and openly bisexual/lesbian.
Appearances
Gallery
Ad blocker interference detected!
Wikia is a free-to-use site that makes money from advertising. We have a modified experience for viewers using ad blockers

Wikia is not accessible if you've made further modifications. Remove the custom ad blocker rule(s) and the page will load as expected.