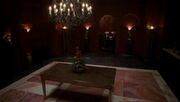 This luxurious apartment belonging to the surnatural professional swindler Gwen Raiden. Her butler Nick seems also to live here. The apartment was located in an unhealthy building and was equipped with a luxurious lounge room, with a kitchen room, with a vast library containing a secret cell and a video surveillance room.
Appearances
Ad blocker interference detected!
Wikia is a free-to-use site that makes money from advertising. We have a modified experience for viewers using ad blockers

Wikia is not accessible if you've made further modifications. Remove the custom ad blocker rule(s) and the page will load as expected.