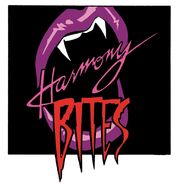 "Do you know me? I don't have a heartbeat, but I know heartbreak. I'm a monster, but don't be scared. I'm just Harmony."
―Harmony Bites opening narration
Harmony Bites was a reality show starring Harmony Kendall, who had jumped to fame and exposed the existence of vampires after being photographed biting Andy Dick. The show doubled as a smear campaign against the Slayer Organization following the attempted staking against Harmony carried out by the Slayer Soledad. The show however was eventually cancelled.
Cast Members
Appearances