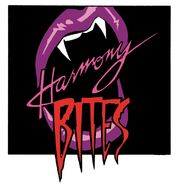 "Do you know me? I don't have a heartbeat, but I know heartbreak. I'm a monster, but don't be scared. I'm just Harmony."
―Harmony Bites opening narration
Harmony Bites was a reality show starring Harmony Kendall, who had jumped to fame and exposed the existence of vampires after being photographed biting Andy Dick. The show doubled as a smear campaign against the Slayer Organization following the attempted staking against Harmony carried out by the Slayer Soledad. The show however was eventually cancelled.
Cast Members
Appearances
Ad blocker interference detected!
Wikia is a free-to-use site that makes money from advertising. We have a modified experience for viewers using ad blockers

Wikia is not accessible if you've made further modifications. Remove the custom ad blocker rule(s) and the page will load as expected.