Illyria's Sarcophagus
Talk

0
4,669pages on
this wiki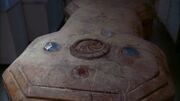 Illyria's sarcophagus has strange writing (probably Primordial Sanskrit) and has crystals on it. It is like all the other ones that are trapped in the Deeper Well .
X-rays and lasers from Wolfram and Hart couldn't penetrate it.
Section heading
When Winifred Burkle touched the crystal on the sarcophagus Illyria's essence went into her and made it way into being. When Illyria went back to Wolfram and Hart, she touched the coffin and developed a clothe-like armor. Angel was able to use one of the crystal from the Sarcophagus to remain unaffected by Illyria's time manipulation power because he was connected to it similar to just as she was connected to it. Also according to Wesley, the crystal represented time intervals and had little power left.
Appearances