Jack the Ripper
Talk

0
4,491pages on
this wiki
Jack the Ripper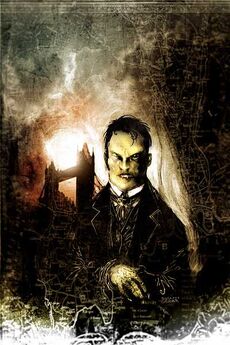 Information

Name
Gaius Julius Caesar Augustus Germanicus (unconfirmed)
Aliases
Caligula, Jack the Ripper
Status
Deceased
Classification
Vampire
Notable powers
See Vampire
"You like attention, Jack? You have mine."
―Inspector James Whitcomb
Jack the Ripper was a London vampire who was active in 1888.
Biography
Edit
"I wonder if you'll be as foolish as that slasher fellow I encountered in Whitechapel ten years ago... the one who was so full of himself, until I drained him so he wasn't full of anything."
―Darla
Darla implied that she was the one who turned him into a vampire. She took credit for draining a "slasher" in Whitechapel, London, which seemed to indicate that Jack was already a serial killer as a human.[1]
Jack the Ripper was hunted by the Slayer, Elizabeth, with the help of Angelus, Darla, Drusilla and Spike in December, 1888. They failed to kill him and, instead, he killed Elizabeth and escaped.[2] Jack's killings drew the attention of Inspector James Whitcomb, who was secretly a vampire like Jack, himself. Whitcomb dusted Jack in order to keep the general population calm and unaware of the existence of vampires, as the fear caused by Jack's murders was affecting the rest of the vampire population.[3]
"Writing to papers, running your mouth, making a mess of it all. Did you really think I'd let you ruin it for us all?"
―Inspector James Whitcomb
In 1996, when asked by his Slayer, Buffy Summers, if there were ever any famous vampires, Merrick replied that Emperor Caligula and Jack the Ripper were not only vampires, but the same vampire.[4] Gaius Julius Caesar Augustus Germanicus (31 August AD 12 – 24 January AD 41), commonly known as Caligula and sometimes Gaius, was Roman Emperor from 37 to 41.
Behind the Scenes
Edit
Darla's implied siring of Jack the Ripper seems to contradict other stories. She may have been embellishing.
Appearances
Edit
References
Edit
External links
Edit