Kumiko Ishihara
Talk

0
4,668pages on
this wiki
Kumiko Ishihara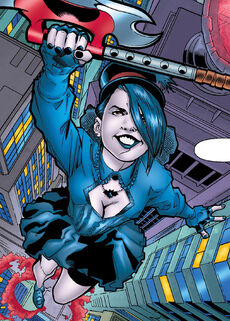 Information

Name
Kumiko Ishihara
Status
Undead
Classification
Vampire/Witch
Affiliation
Toru's pack
Known Relatives
Kazuo Ishihara (father)
Notable powers



Conventional vampire powers and handicaps.
Skilled and powerful practitioner of magic, capable of flight and performing various spells and rituals.
Transmogrification powers that enabled her to transform into mist and animals.
"We have not been been properly introduced. My name is Kumiko Ishihara. Daughter of Kazuo"
―Kumiko Ishihara, to Willow Rosenberg
Kumiko Ishihara was a powerful Japanese vampire witch. She was also an ally of the vampire Toru.
Powers and Abilities
"Did you think you were Saga Vasuki's only student. We speak the same language you and I."
―Kumiko to Willow
Kumiko had the common abilities and handicaps of vampires, as well, for a time, the transmogrification powers of Dracula, allowing her to transform into mist, as well as different animals such as panthers, wolves, bats and a swarm of bees.
Besides her vampire powers, Kumiko was also a powerful witch, having been trained by the demonic Aluwyn. She was capable of flying and performing a number of powerful spells and rituals.
Appearances