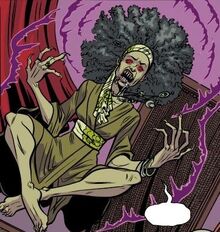 Lana Pasternak a psychic established in San Francisco. According to Rupert Giles, she was a charlatan. Ironically, she was possessed by a ectoplasmic demon with the capacity to see ghosts like Anya Jenkins. She was neutralized by Alexander Harris and Robert Dowling and the demon promptly exorciced by Giles. Before the demon vanished, she revealed to Xander that the ghost was not really Anya.
Appearances
Ad blocker interference detected!
Wikia is a free-to-use site that makes money from advertising. We have a modified experience for viewers using ad blockers

Wikia is not accessible if you've made further modifications. Remove the custom ad blocker rule(s) and the page will load as expected.