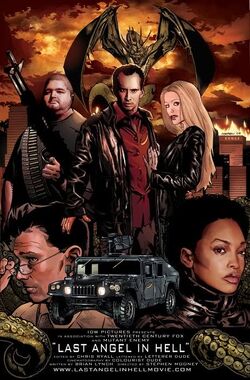 "Los Angeles went to hell. Every third person in Los Angeles is a screenwriter. Sooner or later, someone was going to write a movie about what happened. They could have gotten one fact correct. Just one."
―Angel
Last Angel in Hell was a film based on the Fall of Los Angeles. It starred Nicholas Cage as Angel Cartwright, the heroic cop who saves Los Angeles when it is sent to hell. Though based on actual events, the film takes artistic license with some of the facts, such as its depiction of Spike as female, Lorne as a villain, and Charles Gunn as Angel's overweight sidekick.
Characters
A.I.'s reaction to the film
The Angel Investigations team had highly varying opinions and reactions to the film. For example, Angel was irritated and offended by the inaccuracy of the film- amazed that, even with all the screenwriters trapped in Hell during the events, so little of the film was accurate-, while Spike was amused that his film counterpart was a woman, reflecting that she was at least hot.
Appearances
Ad blocker interference detected!
Wikia is a free-to-use site that makes money from advertising. We have a modified experience for viewers using ad blockers

Wikia is not accessible if you've made further modifications. Remove the custom ad blocker rule(s) and the page will load as expected.