Lyle Gorch
Talk

0
4,493pages on
this wiki
Lyle Gorch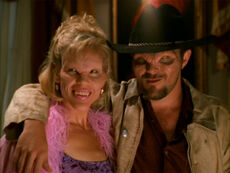 Lyle Gorch was a vampire, the brother of Tector Gorch and the husband of Candy Gorch.
Biography
Before he was sired, Lyle and his brother were murderers, known for their extreme brutality. After his brother's demise, he returned a year later with his wife Candy to participate in "SlayerFest '98", but after Candy was staked by Buffy, he was intimidated into departing Sunnydale by Cordelia, despite the fact that she was not a Slayer.
Lyle Gorch survived both encounters with Buffy because of his "fight or flight" personality.
Behind the Scenes
Named after a similar (non-vampire) character from The Wild Bunch, played by Warren Oates.
Gallery
Appearances