| | | |
| --- | --- | --- |
| | This article is about a subject whose real name is unknown, and is known only by a title, nickname or alias. | |
Ninny was a siren and member of the Mistress's pack in San Francisco.
Biography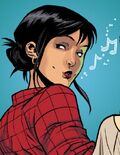 Ninny, alongside Thelma, used a hypnotizing song to lure and devour males customers into bars and clubs. They found Xander Harris, with Spike, who she attracted under the appearance of a young woman with the same interests as him, wearing a Diamondback Toolbelts' The Arctic Fox and recognizing Xander's B.P.R.D. patch.
Ninny and Thelma guided Xander and Spike to an abandoned theater. There, they were to entertain the sirens with semi-nude pillow fight, to soon have sex with the Mistress then be killed. However, the two men, with the help of the spirit Anya, succeed in going out of the bewitchment, and killed the two sirens, while their leader ran away.[1]
Appearances
References
Ad blocker interference detected!
Wikia is a free-to-use site that makes money from advertising. We have a modified experience for viewers using ad blockers

Wikia is not accessible if you've made further modifications. Remove the custom ad blocker rule(s) and the page will load as expected.