Olaf
Talk

0
5,145pages on
this wiki
Olaf
Information

Name
Olaf
Aliases
Olaf the Troll God
Status
Alive
Classification
Troll
Notable powers
Superhuman strength enhanced by his enchanted hammer.
Portrayed by 
Abraham Benrubi
"HA HA! PUNY RECEPTACLE! YOU DO WELL TO FLEE, TOWNSPEOPLE! I WILL PILLAGE YOUR LANDS AND DWELLINGS. I WILL BURN YOUR CROPS, AND MAKE MERRY SPORT WITH YOUR MORE ATTRACTIVE DAUGHTERS, MARK MY WORDS -- OOH! ALE! I SMELL DELICIOUS ALE!"
―Olaf
Olaf was a troll 'god' and the ex-lover of Anya Jenkins. He especially despised witches since he was cursed into a crystal by a couple.
Biography
Olaf was once human, a Viking warrior who apparently often hunted trolls and was the lover or husband of Aud. He cheated on Aud with a "load-bearing" bar matron named Rannveig, so Aud punished him by cursing him with boils in his penis and then transforming him into a gigantic troll, using a spell known as Thornton's Hope.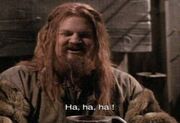 The panache of this spell brought Aud to the attention of the demon D'Hoffryn, who recruited her as a vengeance demon, renaming her Anyanka. Meanwhile, Olaf at first tried to make his compatriots recognize him but within minutes adjusted to his new form and began enjoying his new status. At some point in his life as a troll, he became known as a 'Troll God' and came to wield a hammer enchanted with godly power. Exactly how he achieved this despite not being a troll naturally was unknown. Olaf, at an even later time, was later trapped in a crystal by witches.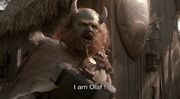 Olaf was freed from the crystal where he was trapped when a spell attempted by Willow Rosenberg went awry due to Anya's inability to keep quiet during the ritual. After wreaking havoc at both the Bronze and the Magic Box and badly injuring Xander, he was defeated by Buffy Summers and sent to an alternate universe. Willow then attempted to send him to the Land of the Trolls, although she wasn't completely sure that he would reach that specific dimension.
Olaf's hammer was used by Buffy herself during her battle against Glory.
Powers
As a troll, Olaf possess superhuman strength, stamina and durability. His enchanted hammer enhance is already formidable strength to the point of being able to send people flying with a single swipe. Also, he possess a keen sense of smell, as he was able to detect the presence of beer from far away.
Behind the Scenes
He was portrayed by Abraham Benrubi.
According to Jane Espenson, Olaf's lines in "Triangle" were all written in all capital letters.
Appearances