Ad blocker interference detected!
Wikia is a free-to-use site that makes money from advertising. We have a modified experience for viewers using ad blockers

Wikia is not accessible if you've made further modifications. Remove the custom ad blocker rule(s) and the page will load as expected.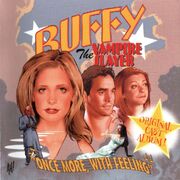 Once More, With Feeling is a soundtrack album and a tie-in to the Buffy the Vampire Slayer episode of the same name. The album features the original series cast singing the songs from the episode, as well as additional music from other popular episodes by regular composer Christophe Beck (including "Hush" and "The Gift") and a demo track of "Something to Sing About" performed by Joss Whedon and Kai Cole. The art for the CD — also used as cover for related items, such as the script book, the DVD and the poster — is by popular comic book artist Adam Hughes. The booklet includes liner notes by Whedon, the lyrics for the songs, and pictures from the episode.
Track
Title
Time
1
Sarah Michelle Gellar - "Overture / Going Through The Motions"
02:57
2
Sarah Michelle Gellar, Amber Benson, Nicholas Brendon, Emma Caulfield, Alyson Hannigan & Anthony Stewart Head - "I've Got A Theory / Bunnies / If We're Together"
02:22
3
David Fury - "The Mustard"
00:18
4
Amber Benson - "Under Your Spell"
02:55
5
Nicholas Brendon & Emma Caulfield - "I'll Never Tell"
04:01
6
Marti Noxon - "The Parking Ticket"
00:45
7
James Marsters - "Rest In Peace"
02:46
8
Michelle Trachtenberg - "Dawn's Lament"
01:19
9
Christophe Beck - "Dawn's Ballet"
01:12
10
Hinton Battle & Michelle Trachtenberg - "What You Feel"
03:01
11
Anthony Stewart Head - "Standing"
02:10
12
Anthony Stewart Head & Amber Benson - "Under Your Spell / Standing

–

Reprise"
01:35
13
Sarah Michelle Gellar, Amber Benson, Nicholas Brendon, Emma Caulfield, Alyson Hannigan, Anthony Stewart Head, James Marsters, Hinton Battle & Michelle Trachtenberg -"Walk Through The Fire"
03:44
14
Sarah Michelle Gellar - "Something To Sing About"
04:40
15
Hinton Battle - "What You Feel

–

Reprise"
00:46
16
Sarah Michelle Gellar, Amber Benson, Nicholas Brendon, Alyson Hannigan, Anthony Stewart Head, Michelle Trachtenberg, James Marsters & Emma Caulfield - "Where Do We Go from Here?"
01:53
17
Sarah Michelle Gellar & James Marsters - Coda
00:40
18
Joss Whedon - "End Credits (Broom Dance / Grr Arrgh)"
00:31
19
Nerf Herder & Joss Whedon - "Main Title"
00:26
20
Christophe Beck - Suite from "Restless": Willow's Nightmare / First Rage / Chain Of Ancients
05:02
21
Christophe Beck - Suite from "Hush": Silent Night / First Kiss / Enter The Gentlemen / Schism
06:54
22
Christophe Beck - Sacrifice (From "The Gift")
02:55
23
Joss Whedon & Kai Cole - "Something to Sing About" (Demo)
04:27
See Also