| | | |
| --- | --- | --- |
| | Although this article is based on canonical information, the actual name of this subject is conjectural. | |
"Caerimonia, Minerva.
Saepio, Saepire, Saepsi.
Saepio Impedimentum!"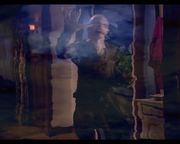 The
Protective Barrier
was a powerful barrier spell which conjures a
solid wall of energy
. It called upon the power of
Minerva
, goddess of wisdom and defense. This spell was employed by
Willow Rosenberg
to protect the
Scoobies
and the
Potentials
from the
Turok-Han
. Willow used it again to stop
Kennedy
from following her.
Though powerful, it appeared to be easily broken by beings with immense strength, such as a Turok-Han. However, it is arguable that Willow intentionally let it fail because of their plan to lure the Turok-Han into the construction site.
See also
Appearances
Ad blocker interference detected!
Wikia is a free-to-use site that makes money from advertising. We have a modified experience for viewers using ad blockers

Wikia is not accessible if you've made further modifications. Remove the custom ad blocker rule(s) and the page will load as expected.