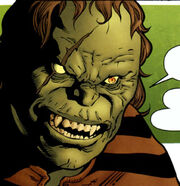 Scar was the one of three vampires who fought with a slayer Faith Lehane. Scar ran away and his two friends were staked after he attacked her in library. When they fought he bit her. When Faith woke up she set fire to him.
Appearances
Ad blocker interference detected!
Wikia is a free-to-use site that makes money from advertising. We have a modified experience for viewers using ad blockers

Wikia is not accessible if you've made further modifications. Remove the custom ad blocker rule(s) and the page will load as expected.