The Seal of Danzalthar was a mystical seal located at the Hellmouth. It served as the entrance to a massive cavernous area in which thousands of Turok-Han vampires awaited to be unleashed. Its design resembles a goat with its tongue out, a theme which can be found in various recurring locations as it is a common symbol of the Devil or of Satanic worship. It opened only when a large quantity of blood was spilled on it and closed when the blood stopped flowing. However, while closed, it still remained active, emitting a constant flow of unholy, corrupting energy which only stopped when bathed in tears of repent by the one who "opened" it. Humans with prolonged exposure from its corrupting energy would eventually lose their own will, and would slowly be transformed into servants of the First, in the same manner as the Harbringers.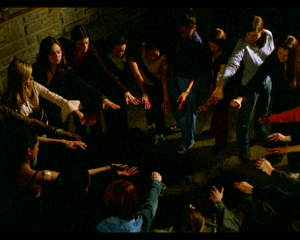 Openings and Attempted Openings
Appearences
Ad blocker interference detected!
Wikia is a free-to-use site that makes money from advertising. We have a modified experience for viewers using ad blockers

Wikia is not accessible if you've made further modifications. Remove the custom ad blocker rule(s) and the page will load as expected.