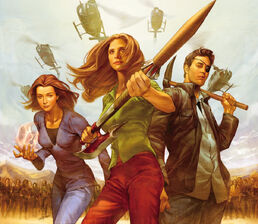 "Season Eight" is a comic book meta-series from Dark Horse Comics which began to be published in March 14, 2007 and finished in January 19, 2011. Joss Whedon wrote some stories and served as an Executive Producer. The story is a canonical and direct continuation of Buffy the Vampire Slayer and a tangential continuation of IDW's Angel and Spike. It is followed by Season Nine.
Synopsis
The meta-series follows the Scooby Gang and the Slayer Organization as they dealt with the mass activation of slayers, vampires revealing their identity to the public, and the Twilight Group targeting them.
Stories
Main series
Mini series
One-shots
Shorts
Collections
Trade Paperbacks
Cover
Title
Issues
Release Date
The Long Way Home
#1-5
October 31, 2007
Written by: Joss Whedon
Artist: Georges Jeanty
Since the destruction of the Hellmouth, the Slayers-newly legion-have gotten organized and are kicking some serious undead butt. But not everything's fun and firearms, as an old enemy reappears and Dawn experiences some serious growing pains. Meanwhile, one of the "Buffy" decoy slayers is going through major pain of her own.
No Future for You
#6-10
May 14, 2008
Written by: Brian K. Vaughan and Joss Whedon
Artist: Georges Jeanty and Cliff Richards
When a rogue debutant Slayer begins to use her power for evil, Giles is forced to recruit the rebellious Faith, who isn't exactly known for her good deeds. Giles offers Faith a clean slate if she can stop this snooty Slayer from wreaking total havoc—that is, if Buffy doesn't beat her to it.
Wolves at the Gate
#11-15
November 19, 2008
Written by: Drew Goddard and Joss Whedon
Artist: Georges Jeanty
Vampires that, at will, can transform into wolves, panthers, insects, or fog invade the Slayer base of operations in northern Scotland, and not only walk away unscathed, but in possession of Buffy's scythe, the symbol of Slayer power worldwide. Buffy and the Slayer legion travel to Tokyo in order to learn more about their dangerous new foes, as Xander journeys to Transylvania to solicit the only person they've ever known to possess such power: Dracula.
Time of Your Life
#16-20
May 6, 2009
Written by: Joss Whedon and Jeph Loeb
Artist: Karl Moline and Eric Wight
Willow and Buffy head to New York City to unlock the secrets of Buffy's mysterious scythe, when something goes terribly awry. Buffy is propelled into a dystopian future where there's only one Slayer—Fray, the title character of Joss Whedon's 2001 series, the first comic he ever wrote. Their uneasy alliance falls apart, leading to the death of a major character from the TV series, while back in the twenty-first century, the Scotland base falls prey to a mystical bomb courtesy of the Biggest Bad-Twilight.
Predators and Prey
#21-25
September 30, 2009
Written by: various
Artist: various
Buffy's world goes awry when former-classmate-turned-vampire Harmony Kendall lands her own reality TV show, Harmony Bites, bolstering bloodsucking fiends in the mainstream. Humans line up to have their blood consumed, and Slayers, through a series of missteps, misfortunes, and anti-Slayer propaganda driven by the mysterious Twilight, are forced into hiding. In Germany, Faith and Giles discover a town where Slayers retreat from a world that has turned against them, only to find themselves in the arms of something far worse. A rogue-Slayer faction displaces an entire Italian village, living up to their tarnished reputation as power-hungry thieves. And finally, with the help of a would-be demon lover, Dawn addresses her unfaltering insecurities.
Retreat
#26-30
March 3, 2010
Written by: Jane Espenson and Joss Whedon
Artist: Georges Jeanty
Vampires have solid footing at the top of the totem and Slayers have been crushed to the bottom—in short, no one likes Buffy anymore . . . least of all this season's mysterious Big Bad, Twilight, who is hot on her magical trail! Now that it's the world against Slayers, Buffy must find a way to return the status quo to . . . status quo—and keep her girls alive long enough to do it! Enter Oz, the only person/werewolf Buffy knows who is down with the suppression of magic, and can take the Slayer army off of Twilight's magic-specific radar. With Oz's assistance, the Slayers and Wiccans try to become "normal" through meditation and hard labor—although, not everyone sees the advantage of being magicless, namely, Willow, Giles, and Andrew. And they could be right. After all, is a peaceful life for a Slayer even possible?
Twilight
#31-36
October 6, 2010
Written by: Brad Meltzer
Artist: Georges Jeanty
Buffy Summers and her Slayer army have suffered heavy losses throughout Season Eight and faced scores of threats new and old, but the one mystery connecting it all has been the identity of the Big Bad-Twilight! In the aftermath of the battle with Twilight's army, Buffy has developed a host of new powers, but when will the other shoe drop, and will it be a cute shoe, or an ugly one? Still reeling from the losses of war, Willow goes looking for missing allies, and discovers a horrifying truth about several of the Slayer army's recent ordeals. Adding to the mayhem is the unexpected return of Angel!
Last Gleaming
#36-40
June 1, 2011
Written by: Joss Whedon and Scott Allie
Artist: Georges Jeanty
At long last, the Big Bad stands revealed—Angel is back, and it's tearing the Scoobies apart, testing the limits of their friendship. But Twilight's unmasking is only the beginning, and Buffy must still face the ultimate betrayal.
Library Editions (Hardcover)
Though the trade paperbacks of the main series already contain most shorts and one-shots, the meta-series was later collected in four hardcover volumes. However, as with the trade paperbacks, these exclude "The Thrill" and "Carpe Noctem", which are collected in Tales.
Cover
Title
Issues
Release Date
Season 8 Library Edition, Volume 1
#1-10, "Always Darkest" short
May 30, 2012
Written by: Joss Whedon; Brian K. Vaughan
Artist: Georges Jeanty; Paul Lee; Cliff Richards
After the destruction of the Hellmouth, the Slayers-—newly legion—have gotten organized, but it's not long before new and old enemies begin popping up. Buffy, Xander, Willow, and a very different Dawn are introduced to the season's big bad, Twilight, and are only beginning to understand the incredible reach of this mysterious threat. Meanwhile, rebel Slayer Faith teams up with Giles to handle a menace on the other side of the Atlantic. It's a dirty job, and Faith is just the girl to do it!
Season 8 Library Edition, Volume 2
#11-20,"Willow" one-shot
September 12, 2012
Written by: Drew Goddard, Joss Whedon, et al
Artist: Georges Jeanty, Karl Moline, et al
The Slayer legion is organized and encountering mega-obstacles, while Twilight's threatening reach continues to expand. Buffy and her Slayers travel to Tokyo to face a new kind of vampire with powers they've only witnessed in Dracula . . . Then, Willow and Buffy head to New York to investigate the secrets behind Buffy's scythe; ever full of the unexpected, Buffy is transported to a dystopian future where her first chance meeting is with Fray, future Slayer!
Season 8 Library Edition, Volume 3
#21-30,"Harmony Bites" short,"Harmony Comes to the Nation" short,"Vampy Cat Play Friend" short
December 12, 2012
Written by: Joss Whedon, Jane Espenson, et al
Artist: Georges Jeanty, et al
In a strange turn of events, Buffy begins to experience Twilight's reach through the growing mass popularity of vampires—they even have a spokesperson with a reality TV show, Harmony Kendall! Rebel Slayer Faith continues on her journey to help other directionless Slayers, and Slayer Simone has also come back onto the Scoobies' radar. Meanwhile, Dawn finally deals with her ongoing growing pains.
Season 8 Library Edition, Volume 4
#31-40,"Riley" one-shot
March 13, 2013
Written by: Brad Meltzer, Joss Whedon, et al
Artist: Georges Jeanty, et al
Season 8's Big Bad is revealed in Buffy and Twilight's second major encounter. Buffy realizes she is in a fight to save all of humanity. The Slayer reunites with Angel and Spike, searching for the one thing that can save the world, while the Slayer army crumbles and one in their ranks is lost. Collects Season 8 #31–#40 and the Riley one-shot in one value package.
Omnibus (TPB)
Cover
Title
Issues
Release Date
Buffy Omnibus: Season 8, Volume 1
#1-20 + Willow one-shot and Always Darkest short
September 13, 2017
Written by: Joss Whedon, Brian K. Vaughan, Drew Goddard, Jeph Loeb
Artist: Georges Jeanty, Paul Lee, Cliff Richards
Buffy Omnibus: Season 8, Volume 2
#21-40
March, 2018
Written by: Joss Whedon, Scott Allie, Brian K. Vaughan, Jane Espenson, Drew Goddard, Drew Z. Greenberg, Jim Krueger, Jeph Loeb, Brad Meltzer, Doug Petrie
Artist: Georges Jeanty, Karl Moline, Cliff Richards, Camilla d'Errico