| | | |
| --- | --- | --- |
| | This article is about a recent or upcoming release and therefore might not yet be complete. | |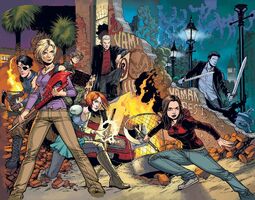 Season Ten is a comic book meta-series from Dark Horse Comics, which began to be published on March 19, 2014 and finished in August 24, 2016. Joss Whedon is the executive producer of the meta-series. It is the canonical continuation of Buffy the Vampire Slayer and Angel series.
The story is a direct continuation of Season Nine, and it is followed by Season Eleven.
Synopsis
In Buffy the Vampire Slayer Season Ten, Buffy Summers and her Scooby Gang protect the Vampyr book from evil forces who want to use it to rewrite the rules of magic to their liking. The Scoobies are also reunited with Buffy's old watcher Rupert Giles, who deals with the consequences of his resurrection.
In Angel & Faith Season Ten, Angel takes on the role as protector of Magic Town and does his best to fend off new and familiar threats with the guidance of recently empowered Nadira. Meanwhile, Faith Lehane goes solo to do some personal growing and gets caught up with Deepscan and past mistakes, until she is drawn back to London and, inevitably, Angel.
Stories
Main series
Extras
Collections
Trade Paperbacks
Buffy the Vampire Slayer
Cover
Title
Issues
Release Date
"New Rules"
1–5
November 12, 2014
Written by: Christos Gage, Nicholas Brendon
Artist: Rebekah Isaacs
While slaying the zompires that have overrun a small California town, Buffy and her pals are shocked to discover a new kind of vampire: harder to kill, able to transform and walk in the light of day — like Dracula… If that weren't enough, the rules of magic are literally being rewritten. While the crew attempts to find out exactly what this means and restore the status quo, Xander is the victim of a haunting as his relationship with Dawn crumbles.
"I Wish"
6–10
April 08, 2015
Written by: Christos Gage, Nicholas Brendon
Artist: Karl Moline, Cliff Richards, Rebekah Isaacs, Richard Corben
Buffy and her crew get their fight on against the new vampires and take a trip to Sunnydale, where Andrew is up to his good/bad/old tricks again. And everyone is tempted by what the new rules of magic can do for them… just like the Big Bads who have come knocking on Buffy's door!
"Love Dares You"
11–15
September 09, 2015
Written by: Christos Gage, Nicholas Brendon
Artist: Megan Levens, Rebekah Isaacs
The romantic scene for Buffy and friends amps up in unexpected ways. But personal lives are soon put aside to deal with demons, both real and intangible. Spike struggles with vivid dreams of murder, and Buffy journeys into his mind, discovering the terrifying new face of evil.
"Old Demons"
16–20
February 10, 2016
Written by: Christos Gage
Artist: Rebekah Isaacs
Buffy needs serious backup. With an ultimate Big Bad, Archaeus, connected to so many from the Slayer's past, she's calling in reinforcements — and saying to hell with the awkward consequences. As the gang get closer to Archaeus, the extent of his plans and their connection to the new rules of magic are revealed.
"In Pieces on the Ground"
21–25
July 13, 2016
Written by: Christos Gage
Artist: Rebekah Isaacs, Megan Levens
Demon invasions wreak havoc worldwide when an interdimensional portal lands in the wrong hands — those of the Mistress, the Sculptor, and the Soul Glutton. As new threats pour into the streets, Buffy and her closest allies find their paths diverging: Willow gets a serious job, Xander and Ghost Anya grow perilously close, Andrew is tempted by evil, and Buffy and Spike continue to work at making their relationship, well, work. And as the real and supernatural worlds collide, Dawn is forced to make a life-altering decision.
"Own It"
26–30
December 17, 2016
Written by: Christos Gage
Artist: Rebekah Isaacs, Megan Levens
The team is splintered after a confrontation with the Soul Glutton and the Mistress. As Buffy tries to bring the team together, insecurities plague her relationship with Spike. To make matters worse, a new Big Bad makes a move to capture the Vampyr book! Buffy must trust in herself to make the right choice and bear the burden of protecting the book from the monsters who wish to abuse it.
Angel & Faith
Cover
Title
Issues
Release Date
"Where The River Meets The Sea"
1–5
December 17, 2014
Written by: Victor Gischler
Artist: Will Conrad
Angel's work is never done. Last time he averted an apocalypse, part of London turned into a chaotic stew of supernatural forces. Who better to watch over it than Angel himself? Or so he thinks — until he finds himself going down a really wrong road… Meanwhile, Faith begins a new chapter in her life — slaying the undead with Buffy, and then going corporate when a juicy offer tempts her…
"Lost and Found"
6–10
May 20, 2015
Written by: Victor Gischler
Artist: Will Conrad
Faith's guilty conscience can't resist a Deepscan mission to find missing demon hunter Riley Finn in South America, but a surprise encounter with tribal vampires tests the slaying skills of Faith's team! In London's Magic Town, Amy the Rat has been seeking favors, and Angel is on alert — he knows the witch is after more than she's letting on.
"United"
11–15
October 14, 2015
Written by: Victor Gischler
Artist: Will Conrad, Cliff Richards
When Faith returns to London, her qualms about reteaming with vampire Angel are pushed aside when the demon Eldre Koh's search for vengeance and his lost friend Illyria brings him to Magic Town. Illyria isn't in Magic Town, but strangely, Illyria's host, Winifred Burkle.
"A Little More than Kin"
16–20
March 9, 2016
Written by: Victor Gischler
Artist: Will Conrad, Cliff Richards
While Angel is stateside, Faith and Fred are tasked with investigating missing students from a local prep school. Attaining gainful employment at St. Cuthbert's Preparatory School, the girls discover a growing teenage-vampire population. Angel returns to London in the midst of the vampire threat — but he hasn't returned alone, and he, Faith, and Fred suddenly have double the trouble!
"A Tale of Two Families"
21–25
August 10, 2016
Written by: Victor Gischler
Artist: Will Conrad
With gangs of vampires bringing trouble to the streets of Magic Town, Angel and Faith have their work cut out for them — not only protecting the citizens from the vampire terrorists but also dealing with the source of the trouble: Drusilla and the überdemon Archaeus. Having failed to gather Angel and Spike to his side, Archaeus is building his family with Dru and looking for a way to gain true control of Magic Town through Nadira and her magic… Angel, Faith, Fred and Illyria, and Koh will pit their newly formed family against Archaeus's brood of blood and misguided magic in a battle for London!
Library Editions (Hardcovers)
Buffy the Vampire Slayer
Cover
Title
Issues
Release Date
"Buffy Season Ten Library Edition, Volume 1"
01–10
July 04, 2018
Written by: Christos Gage, Nicholas Brendon
Artist: Rebekah Isaacs, Richard Corben, Karl Moline, Cliff Richards
Buffy and the Scoobies are shocked to discover another new kind of vampire: harder to kill, able to transform, and walk in the light of day — like Dracula. If that weren't enough, the rules of magic are literally being rewritten in the Vampyr book, making it a highly coveted item. As the crew feels the responsibility of protecting the book and writing the new rules, they are tempted by what new rules can do for them… just like the Big Bads who have come knocking on Buffy's door!
"Buffy Season Ten Library Edition, Volume 2"
11–20
TBA
Written by: Christos Gage, Nicholas Brendon
Artist: Rebekah Isaacs, Megan Levens
TBA
"Buffy Season Ten Library Edition, Volume 3"
20–30, Where Are They Now?
TBA
Written by: Christos Gage
Artist: Rebekah Isaacs, Megan Levens
TBA
Angel & Faith