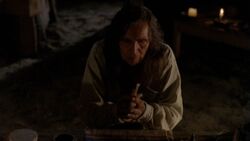 Shamans
were
magical
practitioners concerned with achieving altered states of consciousness, giving them access to the spirit world. Shamans were capable of a myriad of different talents, ranging from transferring
souls
,
divination
,
resurrection
and detecting the presence of
vampires
. They were known to be both
humans
and
demons
.
Wolfram & Hart employed shamans for various tasks that required their expertise and their services were very expensive (a quarter of million according to Lilah Morgan).
Known Shamans
See also
Appearances
Ad blocker interference detected!
Wikia is a free-to-use site that makes money from advertising. We have a modified experience for viewers using ad blockers

Wikia is not accessible if you've made further modifications. Remove the custom ad blocker rule(s) and the page will load as expected.