Sprung Monkey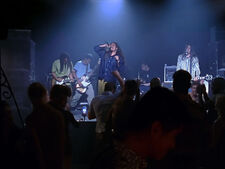 Sprung Monkey played "Saturated", "Believe", "Swirl", "Things Are Changing", and "Right My Wrong" at the Bronze when Buffy Summers went there for the first time.
Their song "Reluctant Man" can be heard as background in "The Pack".
All these songs are from their record Swirl.
They were the first on-screen band who played at the Bronze on Buffy. Nerf Herder was the last one.
Appearances
Ad blocker interference detected!
Wikia is a free-to-use site that makes money from advertising. We have a modified experience for viewers using ad blockers

Wikia is not accessible if you've made further modifications. Remove the custom ad blocker rule(s) and the page will load as expected.