The Breeders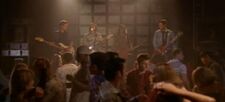 Information

Name
The Breeders
Band members 
Kelley Deal
Kim Deal
Richard Presley
Mando Lopez
Jose Medeles
The Breeders performed at the Bronze when Dawn Summers flirted with R.J. Brooks.
They played Little Fury and Son of Three (Viva) from their record Title TK.
Appearances
Ad blocker interference detected!
Wikia is a free-to-use site that makes money from advertising. We have a modified experience for viewers using ad blockers

Wikia is not accessible if you've made further modifications. Remove the custom ad blocker rule(s) and the page will load as expected.