The Monster Book is a reference publication relating to the fictional Buffyverse established by TV series, Buffy.
Starting with Giles' research into the various monsters and demons Buffy and the gang have encountered, this book then delves into the folklore that inspired the show's bad guys - their mythology, science, cultural, literary and historial origins. "The Monster Book" looks at how vampires are created on the show. There are interviews with the series creator, Joss Whedon, as well as the writers, make-up and costume artists, stunt men and actors. It explores the mythology surrounding vampires and other ghouls, in other forms of popular culture. Meet the vampires and other Sunnydale hellmouth creatures, safely, in this monster book.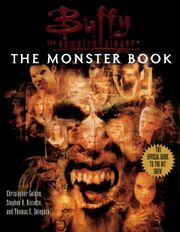 Ad blocker interference detected!
Wikia is a free-to-use site that makes money from advertising. We have a modified experience for viewers using ad blockers

Wikia is not accessible if you've made further modifications. Remove the custom ad blocker rule(s) and the page will load as expected.