Can you believe that Buffy the Vampire Slayer turns 20 years old this month? Neither can we! Buffy racked up an impressive 144 episodes over seven season! And now, SyFy UK is asking you to choose your favourite! I know, it is kind of like being asked to choose your favourite chocolate bar – how can you pick just one? There are so many good episodes!
Follow the link below to choose your top five Buffy episodes from a shortlist of 40 chosen by SyFy UK, and then join them for the Top 20 countdown "Best of Buffy" weekend on 1st & 2nd of April and see if your favourites made the list!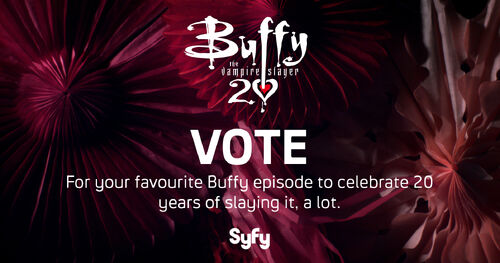 Ad blocker interference detected!
Wikia is a free-to-use site that makes money from advertising. We have a modified experience for viewers using ad blockers

Wikia is not accessible if you've made further modifications. Remove the custom ad blocker rule(s) and the page will load as expected.