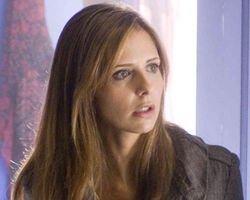 Buffy is coming back to TV! Ok not really (if only!), but the next best thing, Sarah Michelle Gellar, is getting her own series. After a long hiatus, the actress is being greenlit for a show on CW, fitting considering that CW is a combination of WB and UPN, the two networks that ran Buffy the Vampire Slayer for 7 amazing years.
Her new show is titled, Ringer, in which SMG plays dual roles: Bridget, and her twin, Siobhan. Here's what the network had to say about Ringer:
"Ringer stars SMG as Bridget, a young woman on the run from the mob who thinks she'll find safe harbor by posing as her wealthy twin, Siobhan. Thing is, sis has a bounty on her life as well! The rest of the cast includes Kristoffer Polaha (Life Unexpected) as Henry, the out-of-work husband of Siobhan's BFF who happens to be having an affair with Siobhan; Ioan Gruffudd (Fantastic Four) as Siobhan's husband; and Nestor Carbonell (Lost) as the FBI agent in charge of keeping Bridget safe so she can testify against the mob."
Are you excited yet? Can't wait to see SMG back on the airwaves? Tell us in the comments!
Source
Kate.moon 17:46, May 16, 2011 (UTC)
Ad blocker interference detected!
Wikia is a free-to-use site that makes money from advertising. We have a modified experience for viewers using ad blockers

Wikia is not accessible if you've made further modifications. Remove the custom ad blocker rule(s) and the page will load as expected.