Cordelia: "Why is it always virgin women who have to do the sacrificing?"
Wesley: "For purity, I suppose."
Cordelia: "This has nothing to do with purity. This is all about dominance, buddy. You can bet if someone ordered a male body part for religious sacrifice the world would be atheist like that."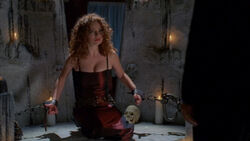 Virginity was the state of a person who has never had sexual intercourse, a virgin being the term for an individual who retained their virginity. Several spells required the ritual killings of human virgins, and many demons fed on or accepted virgins as offerings (particularly females), due to their perceived purity.
Kleptes-Virgo, meaning virgin-thief, referred to a group of different mythical creatures from various ancient cultures that preyed on male virgins by assuming the form of their female counterparts and seducing them.
Demons
Rituals and spells
References
Ad blocker interference detected!
Wikia is a free-to-use site that makes money from advertising. We have a modified experience for viewers using ad blockers

Wikia is not accessible if you've made further modifications. Remove the custom ad blocker rule(s) and the page will load as expected.